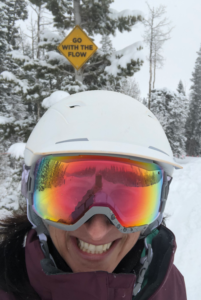 It was a beautiful day to be skiing in Park City, Utah. We had flown in the day before, and after a mad dash to catch our connecting flight, we were relieved to have made it to our destination with all our gear intact.
The first time stepping into skis is always a moment for me to reflect.  Deep breath and, "Please don't let me get hurt!" I say a silent prayer to no one in particular. My family is already heading to the lift lines.
We take the chair lift up, admiring the beauty that the snow filled mountains have to offer. The sun shines brightly and the powder sparkles.
A sign on top of the mountain says, "Go with the flow…"  I laugh because I believe in signs. I think they all have a message, as long as we are open to receiving them. What was this one telling me? To stop talking? To stop taking pictures? To get going down the mountain?
It is always my intention to take the chair lift up and ski right back down… simple as that. Taking the most direct way back, I am assured I will not get lost and the run will be routine. I will survive without falling or getting hurt. I will remain comfortably in control, my preferred method.
This particular day, the main mountain was crowded with beginners and the snow was not fresh. The group I was skiing with pointed over to the less crowded but more difficult looking side, where all I could see were trees.  I definitely wanted to remain on course but being directionally challenged, I had no choice but to follow.
Once I caught up to everyone I realized that there were two options – moguls or trees.
Another sign said, "Be a control freak…"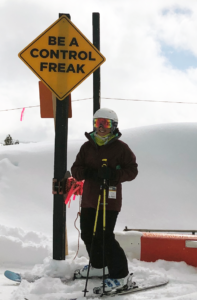 Was this sign speaking to me?
I took a deep breath and headed into the trees. Short, tight turns, fast up and down, around a tree, another tree and stop. Again and again, under branches and around bushes. I could hear my ski mates but I couldn't see them. I took another deep inhale. As I exhaled, I felt my heart pounding (mind you I was also at 7,000 feet!) and I tried to plot out the best way to go. I heard Darren's words to me earlier, "Make fresh tracks, you choose the way. It's exciting to ski where no one has gone before!"  I tried to enjoy it but I only wanted to be safe and finished! Finally, I could see the main mountain ahead and that was encouraging. I kept going and as I exited the woods, I was greeted with, "Woo hoo! That was a double black diamond!"
Wow. Never thought that would happen!
We skied the entire day, working our way back to the main mountain late in the day, as the lifts were about to close.
The last and best sign I saw said, "No easy way beyond this point…"
Yet it was the only way to get back.
Skiing, like life has ups and downs.  There are signs and paths that offer different options and new experiences.  Taking on new challenges definitely has risk, but it also has many rewards.
Skiing that day pushed me outside my comfort zone and it changed me. I enjoyed exploring a different path, making my own tracks and taking the hard way back. I finished the day confident, excited and looking forward to doing it again.
Who knew I could learn so much from signs and skiing?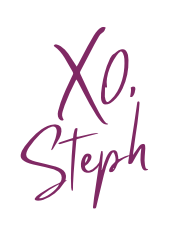 This post was written and published by Stephanie Tishler, CPC, a Career, Life, and Business Coach based in Glastonbury, CT. Read more from Stephanie's blog here, or unlock your potential with 1:1 coaching services!