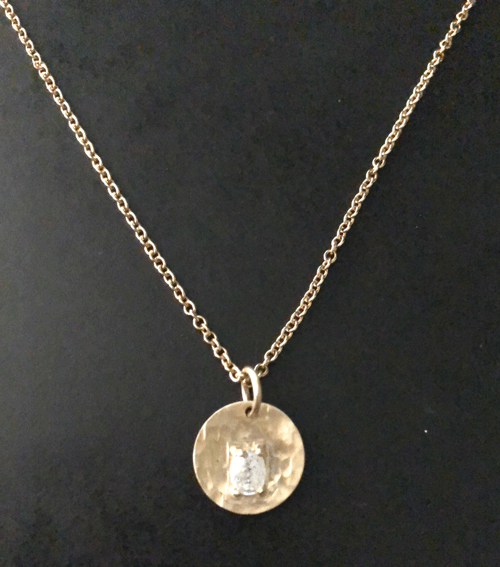 Recently I posted a photograph of my Mom's anniversary band that was transformed into a beautiful necklace by Raeann and Ana at Baribault Jewelers in Glasontbury, CT. What I didn't tell you was what I learned in the process, and how it impacted me.
The back story.
When my Mom first passed away I wore her ring all the time, in place of my normal right hand ring – which is also extremely meaningful to me. One day I noticed a stone was loose so I immediately took it to a jewelry store to have it fixed. Fast forward almost 5 years – when a different jeweler took apart the setting, the center diamond cracked from the release of pressure. When Raeann and Ana showed me what happened, I was all over the place with emotions. How could a diamond crack? Diamonds don't crack… Well, I guess they do! I was sad, I felt guilty for changing my  Mom's ring… and I was very emotional.
My insightful 13 year old offered me this perspective: "When someone no longer on this earth wants to make their presence known, they don't always get a say in how. Maybe Nana was trying to be there and showed up that way. Don't feel bad, Mom."
Wow, right?
We decided to replace the center stone and continued on with the project.
I was thrilled with the end result and when I tell you I never take that necklace off, I really never do. I get it checked and cleaned monthly but it's with me all the time.
So, what does one do with a broken diamond? Sometimes you can polish it down, but this one we couldn't. Was there a place for broken diamonds to go? In passing I asked another trusted jewelry advisor, Christina. After much brainstorming we decided to embrace the stone and showcase it for what it was. We were going to have it set into a gold brushed and hammered disc on a longer chain. I couldn't wait to see it live.
I wasn't prepared for what happened when it was presented to me. It takes a lot to shake me but I opened the box and my breath caught. My body got physically hot and I froze. The enormity of the brokenness hit me like a brick. I couldn't see past the broken diamond for the beauty of the piece. Ana gave me a minute or two and kindly asked what I was thinking about. I couldn't find the words.
Was it a reminder that I had broken a stone?
Did I not expect to see the flaw?
Was it guilt for changing up the ring?
I loved everything else about the necklace so we agreed I would take it and live with it and see if anything changed. But I couldn't shake my sadness.
My family loved the piece and everything about it – including the broken stone. This was eye-opening to me and suddenly I realized there were an abundance of things I was overlooking.
We all have cracks and brokenness.
We all still deserve to be in a beautiful setting.
And we can all still shine.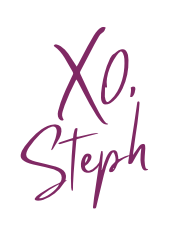 This post was written and published by Stephanie Tishler, CPC, a Career, Life, and Business Coach based in Glastonbury, CT. Read more from Stephanie's blog here, or unlock your potential with 1:1 coaching services!